Our services
Design :

- Specific designs on request with tailor-made solutions.
- Studies of projects and feasibility studies.
- Research of products corresponding to the client's requests and/or requirements.
- Calculation of the best price-quality ratio according to the client's needs.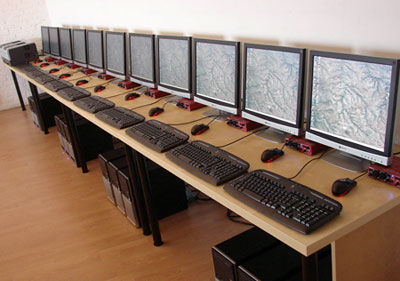 © L. Petit
We work in close contact with qualified technicians and consultants, each specialists in their fields. We can even call upon their services for any specific project, if required.
Realization :

- Factory design and manufacture of furniture adapted to the client's needs.
- Design and installation of audio and video wiring for audio-visual infrastructures.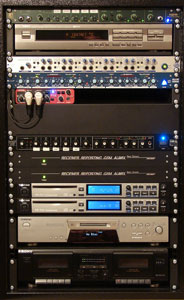 front view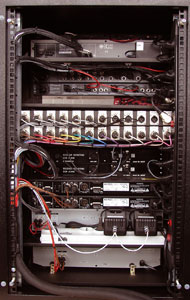 back view

- Supply of audio-visual equipment – of all makes - at competitive prices.
- Supplying, testing before delivery, packaging and shipment of equipment.
Maintenance :

Qualified technicians ensure fast, reliable maintenance and turn around times. Repairs are distributed according to the product type :

- for products under guarantee and/or requiring a repair at the manufacturers, we take charge of the transfer of the devices;
- for products no longer under guarantee and/or requiring particular maintenance, we only use qualified repairers and laboratories.
Training :

We can advise and inform clients about new technologies and available options relative to their field of activity.

We can install, set-up and train clients to familiarise them with new technologies and tools.

Training Sessions can be given in both French and English.
Products and fields of activity
Radio :

Sound recording equipment
Radio studio and outside broadcast equipment
Low frequency equipment for radio studios and control rooms
Computer equipment for integrated radio (hardware & sofware
High frequency broadcasting equipment
HI-FI equipment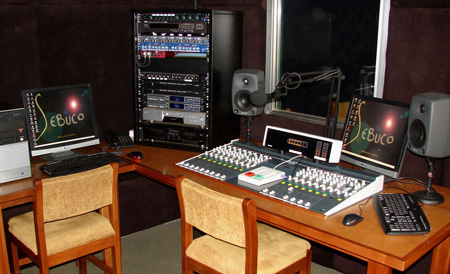 Fondation Hirondelle (Freetown - Sierra Leone) © L. Petit
Télevision and filming :

Video equipment
Analogue and digital camera equipment
Camera accessories
Lighting equipment
Power supplies and power generating units
PA and Sound systems :

Sound recording systems/li>
Mixing desks
Amplifying systems for concert halls and theatres
Effects, processing units ans other accessories